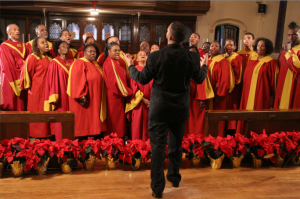 On Mondays I'm posting about the 7 levels of musical worship leading. If you missed it last week, click here for LEVEL 4 – The Exhorter. If you want to start at the beginning, click here for LEVEL 1 – The Worshipper. Here's the fifth installment:
The Facilitator (LEVEL 5 Musical Worship Leader)
The level 5 musical worship leader has learned when to get out of the way of a congregation. This kind of worship leader has learned that even their own excellence can become a distraction when others are led to the throne. The Facilitator makes music in a team with excellence and precision, leading the crowd somewhere, and then gets out of the way. They know that even music itself is made up of pauses, lest the note all run together. They know that full stops in songs and moments of silence in the service are special. They know that the instruments sometimes overwhelm the voices, and need to get out of the way. They know that even music itself is made up of beats, lest there be no rhythm. They understand pace as much as melody—in a solo, in a song, in a set, or even in a whole service. They know that clothing sometimes becomes a "look at me" show for artist—and they start to blend in more. The Facilitator sometimes radically shifts a song, or an order of worship, or even a stage, around so that the musicians get out of the way and point toward Christ more clearly. They call out the congregation—and then shut up about it. They know how to lead, and they know how to do it with excellence—but they also know when to stop.
~~~~~~~~~~~~~~
Links to all 7 Levels of Musical Worship Leadership:
Click here for ways to stay in touch with DavidDrury.com so you don't miss the next installment of The 7 Levels of Musical Worship Leading