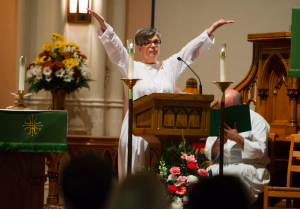 On Mondays I'm posting about the 7 levels of musical worship leading. If you missed it last week, click here for LEVEL 3 – The Performer. If you want to start at the beginning, click here for LEVEL 1 – The Worshipper. Here's the fourth installment:
The Exhorter (LEVEL 4 Musical Worship Leader)
The level 4 musical worship leader draws the congregation out. The Exhorter has figured out that the congregation needs to go somewhere, and makes music in a team with excellence and precision in order to lead the crowd somewhere. They have learned that many people need to grow and change in order to worship God. They need to get out of themselves, becoming selfless in their worship. They see a young person who has only ever heard one kind of musical worship, and they help them experience newer music and music that was written before they were born, nay, before their grandparents were born. The Exhorter calls out a congregation to go somewhere—they know that they must lead or the church will never move toward God, they will just stay where they are.
Exhortation from a worship leader is a tricky dance of give and take (especially whilst trying to get the elderly involved in liturgical dance, I presume). The musical worship leader starts out in a difficult spot in trying to exhort a congregation. Many in a congregation want to relegate the convictional to the sermon–they will take some goading and proding from the minister, but when the music guy starts to exhort them they think: "Who is this punk?" Music usually doesn't exhort us in everyday life. The radio doesn't tell us to clap along. The iPod doesn't tell us to stand all the way through the LP. So it takes some time mastering the first three levels of musical worship leadership to have the trust to begin exhorting a congregation to worship in ways that will grow them and focus them on God. For that is the point. Sometimes we exhort a congregation to just focus on us as leaders, or to learn "our way" of doing things. Instead, a level 4 musical worship leader has figured out how to get a congregation to follow them just long enough to point them toward God more fully, so a church can join the Church.
~~~~~~~~~~~~~~
Links to all 7 Levels of Musical Worship Leadership: