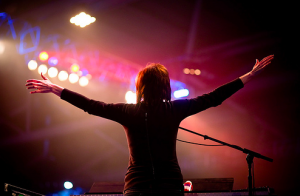 On Mondays I'm posting about the 7 levels of musical worship leading. If you missed it last week, click here for LEVEL 2 – The Creator. If you want to start at the beginning, click here for LEVEL 1 – The Worshipper. Here's the third installment:
The Performer (LEVEL 3 Musical Worship Leader)
The level 3 musical worship leader begins to inspire people with their excellence. They are participating in a team and they are making music together with them… but now they reach another level of devotion to the art—and they put in the hard work to make it "just so." The Performer has learned to minimize distractions and maximize attraction. The distractions take the focus off of the music and the words, so they ruthlessly eliminate the things that irritate a congregation. The attractions help lift the heart as one experiences the arts in a way that reminds them of the Creator God's beauty. Sometimes musical worship gets dismissed as "mere performance." This may be short-sighted.
There is a place for performance in musical worship–and we are reminded of that when someone leads us in worship who hasn't practiced or perfected their instrument. We mock performance worship until the guitar player plays an E minor 7 chord instead of a C chord. In fact, the word "performing'" is pejorative when used of musical worship leadership. If you want to dismiss someone as a shallow worship leader all you need to do is label them "performance worship." I wonder if we have swung the pendulum too far in the opposite direction."
Performance does have a place on the 7 levels of musical worship leadership. I don't think it's the highest level–but I put it right here at level 3. You won't make it on to the other levels if you haven't learned some of the art of good performance. One large church pastor I know, when evaluating potential worship pastors, simply asks, "Do they know how to kiss?" Whether or not you would use that metaphor perhaps you can see that knowing how to competently play music does come into play. The Performer is a worshipper who elevates the mood of worship by lifting the congregation's eyes to a loftier perfection.
~~~~~~~~~~~~~~
Links to all 7 Levels of Musical Worship Leadership:
Click here for ways to stay in touch with DavidDrury.com so you don't miss the next installment of The 7 Levels of Musical Worship Leading