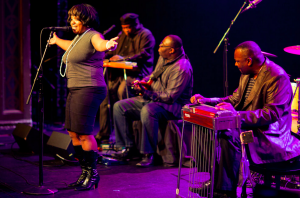 On Mondays I'm posting about the 7 levels of musical worship leading. If you missed it last week, click here for LEVEL 1 – The Worshipper. Here's the second installment:
The Creator (LEVEL 2 Musical Worship Leader)
The level 2 musical worship leader makes music with others. They use their musical ability to creatively work on the pace and structure of songs with a group of other people, be it a chancel choir, a rock band or a men's quartet. They are more than just ahead of the congregation—they are crafting an experience that means something intentional—and they are doing it in such a way that musicians call "making music together." Non-musicians hear that phrase and think of it as a perfunctory task, like laying bricks together. But musicians love to "make music together" in a way that feels like auditory alchemy. The Inklings group that including J.R.R. Tolkien, C.S. Lewis & Charles Williams talked about something similar to this when they spoke of a "sub-creator." Part of the idea is that when someone creates new worlds (in fiction) they are in fact worshipping the original Creator. The musical worship leader can do this–instead of merely imitating the Christian music station, or mimicking the original artist's arrangement–they start to create together something that is truly new. By creating "The Creator" is a worshipper who is making music out ahead of others to lead them.
~~~~~~~~~~~~~~
Links to all 7 Levels of Musical Worship Leadership:
Click here for ways to stay in touch with DavidDrury.com so you don't miss the next installment of The 7 Levels of Musical Worship Leading