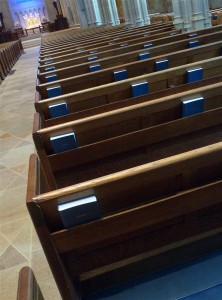 We've heard it before and rolled our eyes, or groaned at the idea: a pastor wants to keep attending a church after they resign. Perhaps they retired and want to have an "emeritus status" in the church. Or at times they resigned for another local role in a para-church organization, and they'd like to keep attending the "church they love" or have family in. Other times a pastor is truly trying to continue leading the church by proxy, and can't imagine the church surviving without their strong leadership. Sometimes the pastor just doesn't want to leave–they are too tired to "find a church" and would rather just stay. The move from the "pulpit to the pew" happens for many reasons in local churches.
I've always looked on such things with a great deal of skepticism. Until the shoe was on the other foot, of course. I recently left local church ministry for general church leadership. In doing so, I was no longer leading in the local church on Sundays–so my family and I had the pleasure of "just attending" a church for the first time since I was in 22 years old in Seminary! But for a variety of reasons, we wanted to keep attending College Church, the church where I accepted Christ, confirmed my call, and have called my home. That's a sticky situation–one I'm trying to walk softly in. While the Senior Pastor and others have welcomed us to stay–and CWC is a unique church in a lot of ways that might be able to handle it–I'm still not sure it will work out, and sure hope to be no distraction. It is certainly a different ball of wax for an Executive Pastor or Teaching Pastor to do this than the Lead Pastor… but some of the same principles may apply.
In this journey it was neat to find Jack Lynn, of Clear Vision Consulting attending a church service the same day as me. He was there to drop his daughter off for college. I knew that Jack, after decades of ministry at Central Church in Holland, Michigan, including being the very visible Worship Pastor and after that, Executive Pastor, had continued to attend that church up to the day I write this, 6 years after leaving the staff for consulting work.
I asked him for advice in my journey–as I know this is a tough one to balance. Yes, he and I were not the "Senior Pastors" of our churches, and perhaps there are different rules for them (perhaps: Rule #1 = never do it. Rule #2 = see rule #1). However, he gave me some great wisdom on how to handle this transition that I treasure. Here it is:
4 Essential Habits of Attending A Church You Used To Work At*
[check_list]
[highlight class="highlight_yellow" style=""]The first has to do with complaints. [/highlight]When we are approached with complaints as a former pastor at a church, they are often trying to associate us with "the way things used to be" or to lend credibility to their complaint cause merely by our tacit approval or lack of correction on the complaint. For this reason, it is crucial that we redirect complaints that come to us, pointing to the bigger vision we are hearing, and correcting the complaint spirit right away. Even "lending an ear to criticism" can be dangerous as a former pastor attending a church we used to work at.
[highlight class="highlight_yellow" style=""]The second essential habit has to do with conflict. [/highlight]When we see something happening that we know is going to create conflict–when there is a big change in music, when the vision is cast, when a tough staff decision is announced–these are the specific times to write a note to the leadership and encourage them, even saying: "I know you're going to get a lot of conflict about ____blank____ — I just want you to know that I support you and understand why you're doing what you're doing. I'm in your court!" This kind of strategic encouragement at the hardest times goes a long way to make us worth "keeping around" in a church we used to work at. The way I'll think about this in the future is this: what times do I wish I would have received an encouraging note from an influential leader in my church? At those times I need to write the notes for others now.
[highlight class="highlight_yellow" style=""]The third habit he found to be essential was celebration. [/highlight]Taking the time to tell the leaders of the church when they make something happen that we wanted to happen for a long time is key. Encouraging them when they hit those finish lines, those moments when we might have started the relay race but they actually reached the end of the race–these are key. As a pastor attending a church we used to work at it is key to celebrate the wins, especially when they are ones that we had nothing to do with–and that we can honestly say: "I always wanted to do that–but couldn't get it done, and you did it. Way to go!"
[highlight class="highlight_yellow" style=""]The final habit was to be a conduit of prayer.[/highlight] Interceding for the church is so important, and prayer just works. What helps is that we, as former pastors in the church, know many of the ins and outs of the dynamics in the church, and can pray very specifically, and for years. And as James 5 says, the prayer of a righteous person is powerful and effective. While some "former pastors" and "predecessors" become the bane of their successors–why not become the #1 prayer partner for our successors? Who better to do this than us?
[/check_list]

I've learned a bunch from this list from Jack Lynn, I love it! I'm attempting to make sure I'm applying each lesson in this season where I need to figure this out. I think at first assessment, I believe a pastor who cannot follow these rules shouldn't even consider attending a church he or she used to work at. what do you think? What rules would you add to the list? Is it okay, sometimes, for this to happen? What about the "Senior Pastor" rules that might be different? The above is Jack's take and my own–what's your take on this?

*Copyright 2012 by Jack Lynn (in a conversation with David Drury). Used by permission.