Recently Larry Salway, pastor of He Sapa, posted a wonderful video describing how his ministry to Native peoples has gone about restoring native protocols and respect in moving forward in their ministry.
Please check out the video by clicking this button:
I loved listening to his outline of why this is important and how they do it. It made me appreciate Native ministry more and I learned a lot. It also got me thinking very deeply about the idea of respect, love, and honor in evangelism and cultures… and not just for the Native ministries!
I wonder if we've forgotten that just such an approach is needed in ALL cultures–even if not so explicitly. I wonder if the way I go about evangelism in my own home town has had less respect and acknowledgment of the cultural protocols than it should. Praise the Lord for Larry and others who are not only leading well in ministering to Native peoples, but also serving as an example on how to lead in all cultures!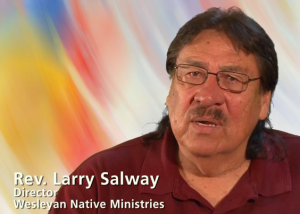 This video also helps me realize why literally thousands (6K+) are a part of Larry's house church network watching his teachings and "being the church" in small mini-congregations within a larger network of one congregation. When I tell people that the second largest Wesleyan Church in the nation is nearly 100% Native they are astonished (our largest is 12Stone in Atlanta, which continues to explode in growth).
I'm learning a lot from what Larry is doing, in terms of innovative sub-culture church planting, video-teaching, and culturally contextual mission.