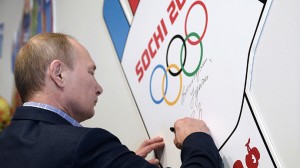 Russian President Vladimir Putin has keenly required that the International Olympic Committee add many events to the sporting competitions at Sochi 2014. Some have criticized President Putin for lobbying for these additions just so Russia might win more medals on their home soil. Other analysts have speculated that Putin himself may be planning to enter these events in a vainglorious attempt to further bolster his larger-than-life persona at home and on the world stage. Decide for yourself, as I report on each event throughout the Olympics, what may be the truth.
7 February 2013 Update – Alpine Child-Fighting
BREAKING… While America watches the Opening Ceremonies of the Sochi 2014 Olympics the results from the first added events have come in. On the first day of competition for the new event of "Alpine Child-Fighting" the slim crowd watched as the competitors fought small children (they must be under 4 feet 9 inches or 145 cm height.)
In a move that surprised the crowd but confirmed the suspicions of critics, Russian President Vladimir Putin was apparently listed as an alternate in the event, which he then entered in place of the sportsman ahead of him on the Russian team who was unable to be located prior to the start of competition.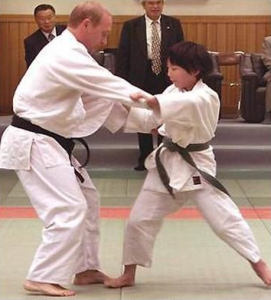 The Russian President is pictured above fighting Hamid Bayzhanov (age 10) of Kyrgystan. Putin dismantled the attacks of Bayshanov with a significant advantage in terms of height, weight, reach, and ruthlessness. After his defeat, in which Putin put the child in a sleeper hold to win the match, Bayshanov stated in an interview, "My neck hurts."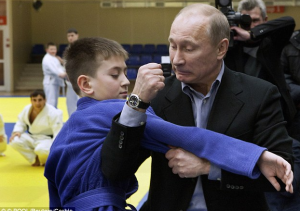 Pictured above is Putin's gold-winning match against Paul-Henri Dubois of France, in which Putin showed up in a business suit. After the match, Putin was asked about wearing the suit for the competition, and he stated, "I didn't feel like changing my clothes." Dubois (age 12) was unavailable for comment as he was being treated for an apparent broken arm and hyperextended elbow.
It turns out that Putin has a long history of Alpine Child-Fighting, having judo and mixed martial arts training since childhood.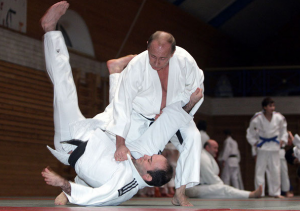 He penned a book on the subject called Judo with Vladimir Putin (published in America under a different title) which recounts his love of the sport, and the particular joy that comes from fighting children.
Several countries boycotted the Alpine Child-Fighting event citing moral objections to the notion. Other countries entered the competition but then withdrew after many children were injured or sustained terrifying concussions. When asked about the objections President Putin rolled his eyes and through a translator stated, "This is why the weak Western countries get nothing done. When you have to do something, such as break a child's arm to win a medal, you just grit your teeth and do it. Or at least that's what my father told me growing up. This attitude is what makes Russia a more awesome country than all other countries, and what makes me better than you, for instance."
Stay tuned for more updates from Sochi's new events to come…