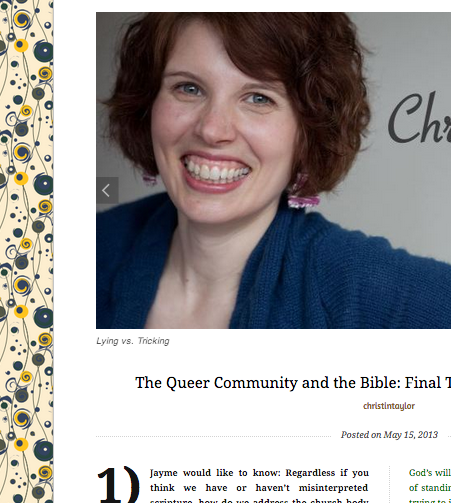 I am cross-blogging today on a series Christin Taylor has written recently. We often talk about homosexuality in heated terms and don't ask hard scriptural questions about it, and we don't often directly ask actual Bible scholars either. Christin has done that task, inviting Dr. Ken Schenk and Dr. Greg Carey to engage in a dialog with her on this matter… and the result is an interesting discussion I think is worthy of a read. Christin Taylor is the author of Shipwrecked in L.A., a book I just got yesterday and can't wait to read.
Her series:
The first installment is a Q&A with Dr. Schenck
The second is the same with Dr. Carey
The third is a wrap up with both
I am thankful for this frank encounter with two different scholars. Both were wise, measured, and realistic in their statements, and I learned much from this short series. I am biased a bit, however, as an ordained Wesleyan Minister who is personal friends with Dr. Schenck and also Christin herself, and also as someone who doesn't know Dr. Carey or his work at all. I perhaps come at this with "those glasses."
I am glad that Christin offered a forum to think and pray through these matters. I think her series accomplished this with kindness and maturity. My only concern was with the very last response to the questions…
Dr. Carey says:
[quote_box author="Dr. Greg Carey" profession=""]"I no longer hold any interest in defending my views. I believe it is time for those who exclude LGBT folk to defend their practices"[/quote_box]
Whereas Dr. Schenk says:
[quote_box author="Dr. Ken Schenck" profession=""]"Anyone who is really interested in truth must be willing to listen objectively to opposing points of view and, at least in theory, must be open to changing his or her viewpoint given a sufficient basis to do so."[/quote_box]
I don't resonate with Dr. Carey's statement at all. Why does he believe that he doesn't need to defend his views 'any longer.' Is the discussion over? I sense an openness in Dr. Schenk's final comments to continue dialog, and a closed posture from Dr. Carey. It seems he is in fact undermining your entire series with this statement.
Perhaps it was not intended in that way. But it seems to me that he thinks the "the burden of explanation" is in Dr. Schenk's court… as if the bare reading of scripture is obviously interpreted in the way he says, and that "In the light of the gospel" (read: Dr. Carey's interpretation of the gospel) an openness "to changing his or her viewpoint" (Dr. Schenk's words) is not really a possibility.
While there are many that talk about the closed minds of those who are more conservative on this matter, I wonder if closed minds are sometimes more of a matter of posture and attitude than politics and theology. I've known Bible-belt Texas Baptists who were close-minded, and I've known Unitarian Boston lesbian ministers who were as likewise close-minded.I'm thankful that Christin posted this and that she is continuing to engage on this matter with a full heart, loving actions & and open mind! I admire that in her. I have a sense that she and I are at different points in the journey on this question… but we are both on the journey and I have not yet "arrived" and I'm still learning and hoping to continue redemptive relationships with everyone I know. I should confess that I yearn for a day when we see Christ's transformation in lives, churches and communities in a way that we are not seeing today, specifically when it comes to the "queer community" and the "evangelical church"–which are so often shouting at each other from different protest marches, figuratively, and sometimes literally. I dream of a day when we hear fewer debates and more testimonies.
How about you? What's your take?