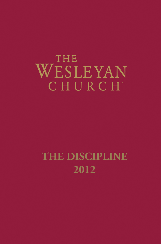 Seriously… this is boring stuff to most people. HOWEVER, you might learn something and appreciate the work that people with higher IQs than I put into it.
Today The Wesleyan Church released the 2012 Discipline. (I'm sure the New York Times Book Review took note.) Here is the link to the announcement. They're even doing a giveaway (which really could rival Oprah's Favorite Things giveaway.)
Yes, there is nothing quite so ponderous as a denominational polity and doctrine manual. Each denomination and their ecclesiocrats seem to revel in publishing these quadrennial (or some: annual!) doorstops of dogma. But… pause with me to note a few things that I, as a bit of a doctrine nerd, and Church appreciator, and fresh ecclesiocrat myself, have found noteworthy in this release:
1) This Discipline has undergone some of the most significant changes since the 1968 merger of our denomination between the Pilgrim Holiness Church and the Wesleyan Methodist Church.
2) Despite all the many changes, Ron McClung from our Communication and Administration Division and his crack team of polity wonks & grammatical geniuses somehow still got the thing updated, edited, approved and printed BEFORE our General Board meetings in mid-November. Most of you don't think that's a big deal, I know. Anyone I've told that has ever been involved in the process (a select few, most of whom didn't get paid enough to do what they did) have been amazed by this. As I say of Ron: "He puts the Administration in Communication."
3) The Discipline is now offered not only in print but also for download by e-readers… so that nerds like me who also want to appear trendy might look up portions on our iPads instead of carrying around the tome with us all the time. I'm not saying anyone is doing devotions out of the thing–but it is nice to "have on hand" when you need it (speaking as an Ordained Wesleyan here.)
4) For those that crave the physical copy and the fine paper or want to complete your set of Disciplines stretching from 1912 this quadrennium's model comes in a fine hardback burgundy color (In what I imagine is an effort to kill two birds with one stone and demonstrate austerity measures, I suspect they have taken all the old expensive burgundy furniture of Headquarters and stripped off the upholstery in order to create these fine Disciplines. I can't confirm this but just speculating.)
5) The Discipline is out before CHRISTMAS! So now you know what to get as stocking stuffers for all those future District Superintendent Emertii grandchildren you have, or for your kids that are far from Christ but you want to inspire them with the Doctrine of The Wesleyan Church so that some day they serve as delegates to General Conference. (Yes, I'm making a joke here, but ask me some time about the testimony of my Uncle Jon–as the above joke is actually pretty close to his personal testimony of coming to Christ and in 2012 serving as a delegate to General Conference to the shock of all who knew him when he was young.)
6) They are even offering a free excerpt of The Discipline in order to tease us all with the drama that unfold in the full copy. The excerpt, like a movie trailer, begs these questions: a) Will the one General Superintendent model enable The Wesleyan Church to be the awesomest denomination in the entire universe? b) Do all the names of The Wesleyan Church around the world make sense to Western ears? c) Is the Judiciary section longer than the Articles of Confederation of the United States of America? d) Are Wesleyan megachurches whose attendance are in fact larger than all the attendance of the other churches in their districts combined now able to hire and fire any pastor within 77 miles of their building? e) Are District Superintendents now able to dress up like Catholic Cardinals with the funny hats and all and make us call them "Bishop"? Well, I hate to spoil the surprise but the answer to all the above is, perhaps sadly, no. So there are fewer cliffhangers than one might like, truthfully.
6) MEANWHILE, you can use the Discipline like a Where's Waldo hunt by looking for all the cursory locations where the "Chief of Staff" (Yours Truly as of now) is mentioned in it. I've noted that it usually says, or should say, something like: "This is the guy who is in charge of the Complaint Department and who should be blamed if everything fails."
But seriously… the Discipline is out and I'm proud of all those who worked so very hard on it, even if you think it's boring I'm impressed! Go get one or read the free excerpt here. They're giving them away free when you call in (and another one next week I hear.)