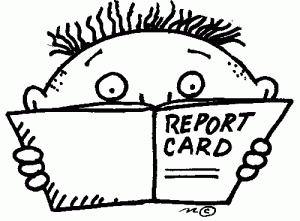 When I was growing up, it seemed no 80's sitcom was complete without the recurring theme of a bad report card grade. The TV kids would go to great lengths to hide, alter, or defend their grades to their parents. For most kids this was a true-to-life accurate picture of report card day. Some of my friends even anticipated a spanking for their grades at the end of each term and would head home in tears. Things were quite different in our home.
Every single report card day from the time I was in sixth grade, our family would go out for pizza. My brother (in first grade when it started) and I would have our grades in tow and, as my father would say invariably during the drive, "Tonight we are celebrating all your hard work for this term, and I'm proud of you whatever your grades are." Our grades were positively reinforced every single pizza party. We would make our parents proud with great grades, and we knew that the party at the pizza place would be all the better with better grades, so we tried our best each year.
Positive Rewards
It is difficult to get kids to do what we want. Children act so childish all the time, don't they! Sometimes we wish they would just grow up. The difficulty with kids is the same difficulty with adults: getting them to do what we want them to do because they want to do it. Anyone with a position of authority can make people do things. Any boss or father can use punishment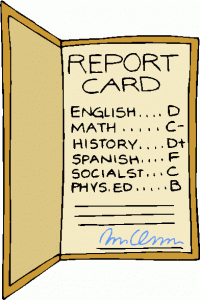 to make a point, and sometimes that is necessary for both. But the higher road and more utilized choice by successful Dads and bosses alike is the path of positive rewards for preferable behavior.
We all know how to do it, but more often than not we use it as the backup plan. We need to realize that people are not unlike dogs. We will go to amazing lengths for a treat! This is not using empty promises and desperate pleadings once a kid acts up in public. A kid in that situation probably needs negative reinforcement in a decisive manner. But on a daily and consistent basis, kids should be behaving well because they want to do themselves and their parents proud, not simply because they are living in fear of the consequences, which can, and will, result in them simply "going behind your back" to get away with things without punishment.
The Secret Reinforcement Weapon
The largest positive reinforcement for any child is often the pride of his or her father. Being Dad on purpose is when your kid makes you proud by trying to make you proud. Being proud of our kids is our secret weapon. To know that Dad would be proud of my bother and I regardless of our grades didn't cheapen his pride of us when we did well, it bolstered it. We longed to make him even more proud. And you know you're doing your job when your kids want your pride more than they want the pizza.
DadThink
Questions to Ask Yourself or a Group of Other Dads:
What positive rewards would you have responded to as a kid?
What positive rewards are you giving your kid already?  What things do they love and are motivated by?
What kinds of things about your kids make you proud these days?
How could you show it better?
What kinds of things are you doing that your kids might one day be proud of you for?
So, what's your take on one or more of these questions?