I asked this simple question on "Wesleyan Pastors" on Facebook: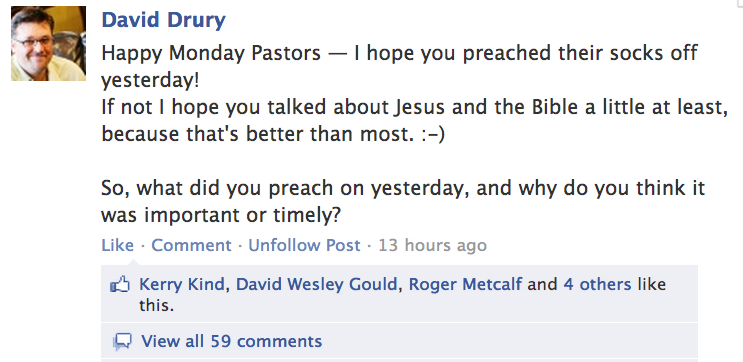 It was crazy to see how many pastors commented on this so quickly. (One might suggest that a great way to get Pastors talking is to ask them what they're recent sermon was on!)
The thread is a lot to read through–so I'm posting a summary of just this one day's preaching in Wesleyan Churches all over the place (from America to Australia). It's a nice snapshot of the kind of preaching that is happening out there.
A few observations from this list before the summary:
I love how these preachers are using scripture creatively but with authority.
I love how there is so much uniqueness in how the Word can be interpreted for preaching. I've preached on many if not most of these passages, but never in the way they did.
There is a great diversity of subjects here–all over the map. It's nice to see the theological depth and gospel truth, and also the relevant hooks and felt needs being addressed. It's all here.
It's interesting to see many women share what they preached on in this list, and also many very young preachers in this list too. And finally many small church pastors on this list. We often don't see what those three groups and what they are preaching–this is a nice opportunity to see what they are up to.
Summary of Wesleyan Preaching on 19 August 2012 (list typed up at 10pm, 12 hours after the initial post – others posted after this point)
Alan – Atonement (Rom5v7-11)
Jess – Holy Spirit (Acts 1v8)
Jenn – Self-Control (Gal 5)
Christy – Pilgrim's Progress (Acts16v13, Tit2v11, 1John4v19)
Jeremy – Praising God regardless of circumstances (1Pet1v3-12)
Nathan – Lessons from Jacob & Laban
Stefan – Teamwork (Neh 3v1-32)
Dan – Fruit leading to holiness (Rom6v22)
Aaron – Reckless Abandon (Jer2v2)
Mark – Spiritual Leadership (1Pet5v1-5)
Lex – Blessed are Those Who Mourn (Matt5)
Lex – Call of God (2Kings2)
Patty – What's in your Heart? (John6)
Nathan – Do Not Be Troubled (John14v1-14)
Erik – Wilderness Experiences (1Kings19v3-9)
Thomas – Reconciliation (Cor5v18-19)
Michael – Principle of Reciprocity (Luke6v37-38)
David – Miracles (Matt4:23-25)
Michael – Seek & Save Lost & Marginalized (Luke19v1-10)
Sharon – Grace to All (Matt15v21-28)
Keith – Called (John1v1-14)
Jim – Courage
Justin – Bowling, Brownies & Sunday School (Acts8v26-40)
Denn – I am the Shepherd (John10v11-16)
Rob – Solitude
Aaron – Going to Samaria, Instead of Avoiding It (John4)
Tim – Family Planning (testimony, time, talent & treasure)
Dave – We Are Christ's Ambassadors (2Cor5v17-20)
Jason – Words Have Power (Luke6:45)
Andrea – The Gospel Need (Luke19v1-10)
Michael – Would Jesus Pack Heat?
Dale – Lighten Up: The Burden of Loneliness (Psalm23v4)
Thom – The Joy of God Given Responsibility (Matt25v14)
Dan – Running with the Giants
Charles – Wait… To Go (Isa 40:31)
What trends or implications would you draw from this list when you see what Wesleyans were preaching about on 19 August 2012?